Continuing from my previous post from May 4, 08.
Seoul Day 3: Gyeongbokgung Palace, Namsangol Traditional Folk Village
After visiting the Gyeongbokgung Palace, we walked to the nearby neighbourhood of
Insadong
.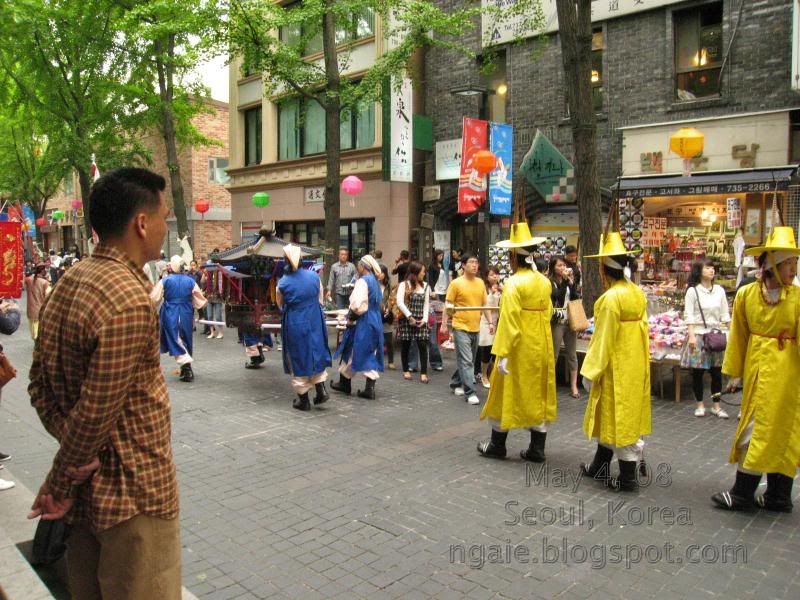 From Wikipedia:

Insadong has been at the heart of the nation's capital for 600 years and it has been the center of culture since the time of the Joseon Dynasty (1392-1910). This is also where the Ministry of Art was once situated. Insadong usually refers to the area from Anguk-dong Rotary to Tapgol Park in Jongno 2(i)-ga, past the Insadong Intersection. The notable features of Insadong are the countless alleys that branch out from the main street. Insadong was once known as 'Mary's Alley,' and is a favorite shopping spot among foreigners.

Over forty percent of the nation's antique stores are in Insadong. The antiques sold tend to be more valuable than those sold on other art streets in Korea. The prices range from 10,000 won to hundreds of millions (1USD is about 950 SKW). Most of the stores sell old books, pictures and calligraphy. Among the antiques are old pictures, pottery, wooden containers and jewelry. There are a variety of art works from earthenware of the Unified Silla Era to white pottery of the Joseon Era. Insadong is visited by many foreign visitors from Japan, China, France, the United States, and other countries. Insadong is visited year round, reaching the peak of its popularity in Spring and Autumn.

Much of the art sold in Insadong - and the most popular selling item for tourists - is traditional Korean ceramic ware. It has practical uses, and is also considered decorative by many. Ever since Queen Elizabeth II of England visited Insadong in April 1999 and praised its beautiful artwork, many tourists have sought out the area. The prices may vary from 10,000 won to some 10 million won. The most popular piece of ceramic ware is pottery in the shape of a gourd bottle, which can cost from 100,000 won to 200,000 won.

On weekends, Insadong is closed to vehicular traffic. Insadong takes on the appearance of a flea market where antiques, accessories, artworks and books are sold and bought. Traditional antiques from different parts of Korea as well as international antiques brought by foreign tourists are displayed, enabling visitors to view many traditional items at a glance.

In Seoul, street food vendors are very popular. While walking to Insadong, we saw a lot of these.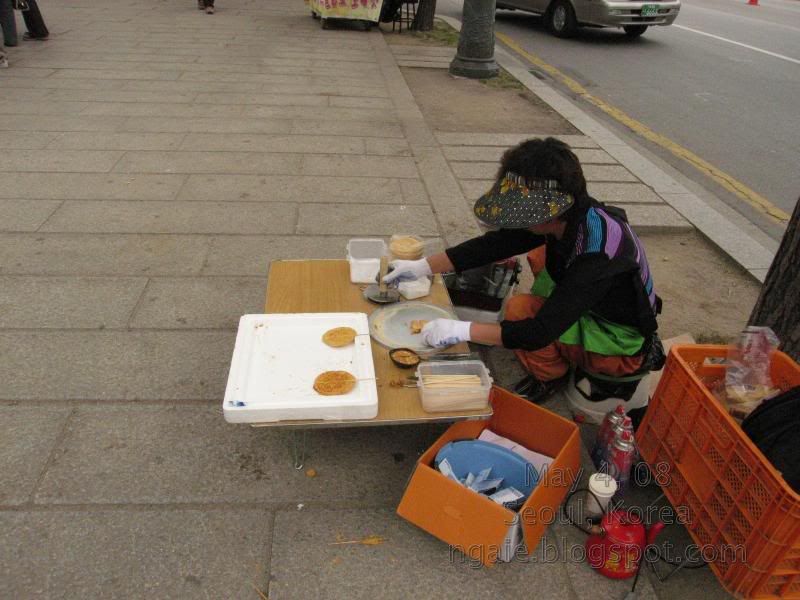 Interesting Hello Kitty car.




There was a parade through Insadong when we were there.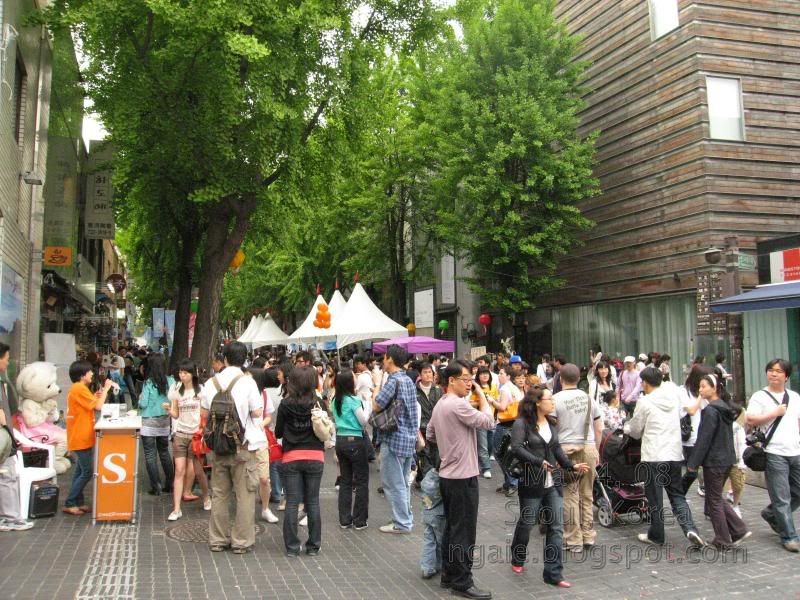 We went to eat at the restaurant to the left in this picture for lunch. It was quite expensive, if I remember correctly, the price for 3 people was 40,000 won, which is about $40.




There were a lot of displays of traditional crafts.




After that, we took the train to the Yongsan Electronics Market to check out Korean electronics. This market was a let-down as it mainly consisted of small vendors/booths on multiple floors. I couldn't really browse anything without them trying to sell me something so I didn't even get any pictures. Also the number of salesmen outnumbered the number of shoppers.

From Wikipedia:

Yongsan Electronics Market is a retail area in Seoul, South Korea, comprised of over 20 buildings housing 5,000 stores that sell appliances, stereos, computers and peripherals, office equipment, telephones, lighting equipment, electronic games and software, videos and CDs. A variety of electronic components for constructing computers and other items can also be found. Korean-made products generally cost 20% less in this location than other retail outlets, while imported items can be as much as 50% cheaper.

The market has a variety of stores, each with different operating procedures. Some stores operate like traditional retail shops, with set prices, name brands, and warranties. Other shops accept, or even expect, customers to bargain and may not have any posted prices for items.

What was interesting was on the top floor of the market, there was an "e-sports" stadium where there was a live competition in StarCraft.

From http://korea-travel-tips.com/yongsan-e-sports-stadium:

Don't you want to feel dynamic cultures of Korean youngsters? The cultures are so fascinating that you don't want to lose a chance to see. There is only one place in Seoul to see their cultures all together, which is "Yongsan E-sports Stadium". It is the first stadium in the world, only used for computer games. You might be unfamiliar with this stadium. But once you get there, you will know that Yongsan E-sports Stadium presents you with many interesting things; a high level of games played by professional gamers, recent information of popular computer games and some shows made by talented Korean youngsters.

You can see a high-level of computer games played by professional gamers like Starcraft, Warcraft, etc. You might think, "What it would be a big difference with my game?" But there must be a big difference you cannot even imagine. Professional gamers usually spend more than 10 hours a day to play computer games, which is their job, not their hobby. Some of them make good money as much as a salary of pro-baseball players or pro-soccer players. And the gamers show their games in Yongsan E-sports stadium which a lot of youngsters want to see. If you want to see high skills of computer games, or if you want to compare it with your skills, you should come to Yongsan E-sports stadium.

Yongsan E-sports stadium also has a variety of recent computer game's information. On second floor in the stadium, there is some place where you can enjoy the newest computer games for free, playstation, X-box and many other games. Every computer game company shows their state-of-the-art game in the stadium to find out how people react to their game before releasing it. So we can play the newest games which are not even released in the market. Furthermore, people can find out what games would be their tastes. If you like the new game after experiencing it, you can buy it right there. With hundreds of the newest computer games, you might not be unaware of the passage of time.

On every Friday night, the stadium has a show that you cannot miss. Korean B-boys are showing their rap and breaking dance in the show, which has already been acknowledged in the world by winning many world dancing contests. Many Korean youngsters are coming to the stadium to enjoy Friday night fever of the stadium all together. Besides, the show is so famous among B-boys of the world that many B-boys from other counties come to the stadium to see what the best breaking dancing is like. Like this, Korean youngsters are making a big party in the stadium every Friday night.

Aren't you already excited? Yongsan E-sports stadium has much more meanings than any kinds of normal stadium for Korean teenagers. It is a liberated area where our kids are getting rid of their stress and making a new culture by watching computer games, doing computer games and having a big party. You might as well see it directly if you want to feel Korean youngster's culture. The Yongsan E-sports stadium is located in the I-park mall connected to number 4 gate of Yongsan station. It opens from 10AM to 11PM every day, except Monday. If you need more information, feel free to call 016 9797 8707.

If you look carefully on the screen, they were playing StarCraft. The atmosphere was pretty intense with "coaches" sitting in tables and lots of fangirls screaming for their favorite "e-athlete".




After that we went to Yeouido. We thought that there would be things to see there because it is home to

many office buildings including the 63 Building and the headquarters of LG. The island also houses many important institutions, including the headquarters of both KBS and Munhwa Broadcasting Corporation, and the Korea Exchange (KRX) Center.

Unfortunately it was a Sunday, and the entire island was deserted. We did manage to walk to the riverfront where we see the *real* skyline of Seoul. Its not very pretty and very grey!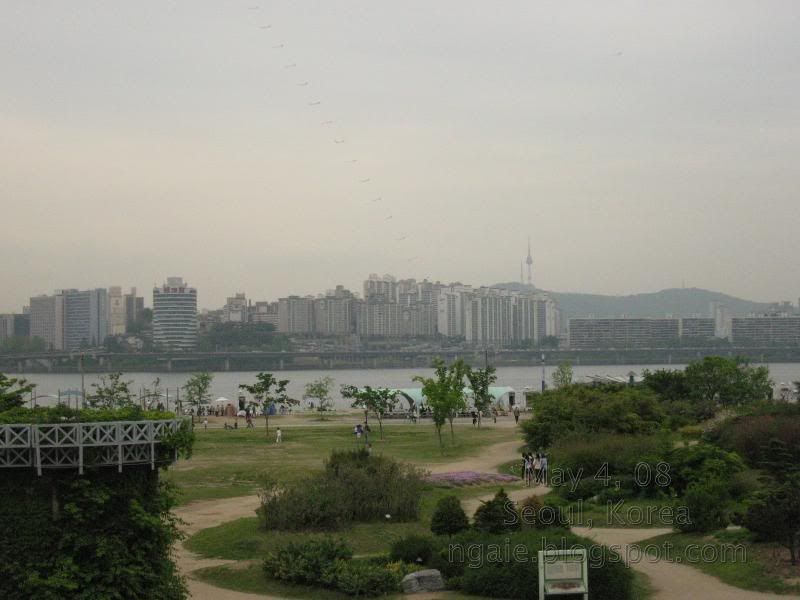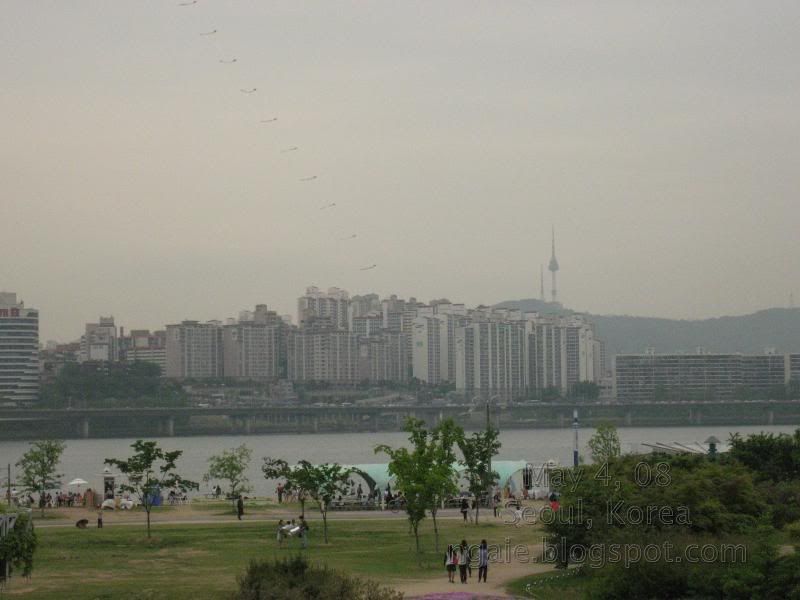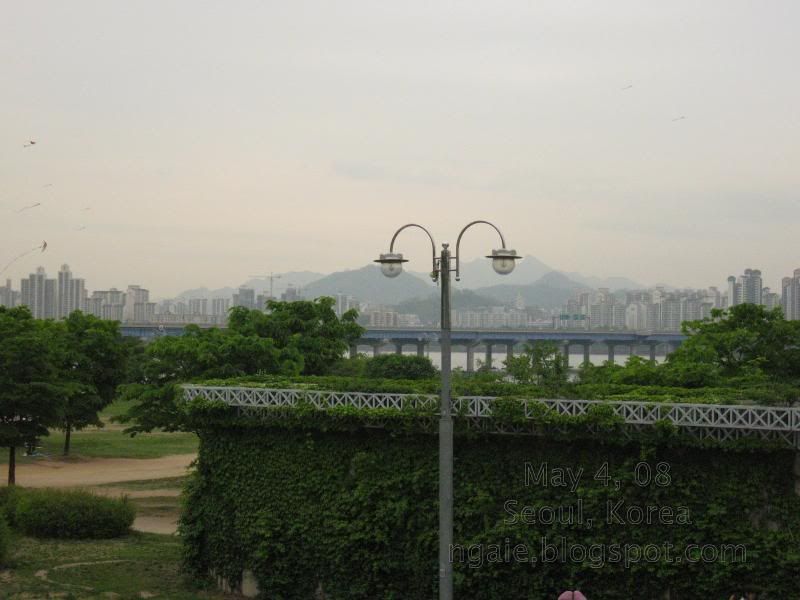 In the background is the gold-coloured 63 Building.




Interesting advertisement in the subway.




To be continued...