Updated: Google Map added for post "
Going to Kyoto and Nintendo HQ
" and all thumbnails are clickable to reveal full HD image
Why am I posting pictures of Kyoto Station...its because before I went to Kyoto before, I read of how big and impressive it looked and I couldn't find any *good* images, other than a few crappy thumbnails.
Its also interesting because of its gigantic scale and the way its built. Also I think its one of the very few completely new stations in Japan (most stations in Japan are pretty dilapidated, especially in Tokyo...). Although the station building is "new" (10 years old), the platforms I found to be pretty lousy, typical blacktop (pavement) flooring that you see in 90% of the stations in Japan.
Also one should note that Kyoto's actual downtown is not right outside of the station, it is maybe a 10-15 ride by taxi away. Other than the shops connected to the station, outside there seems to be nothing but pachinko parlors.
Below is a description from Wikipedia:
Kyoto Station (京都駅) is the most important transportation hub in Kyoto, Japan. It has Japan's second-largest train station building (after Nagoya Station) and is one of the country's largest buildings, incorporating a shopping mall, hotel, movie theater, Isetan department store, and several local government facilities under one 15-story roof.
The first Kyoto Station opened for service by decree of Emperor Meiji on February 5, 1877. It was replaced by a newer, Renaissance-inspired facility in 1914, which featured a broad square leading from the station to Shichijo Avenue. Before and during World War II, the square was often used by imperial motorcades when Emperor Showa traveled between Kyoto and Tokyo: the image of Kyoto Station with its giant Rising Sun flags became a well-known image of the imperial era. This station burned to the ground in 1950 and was replaced by a more utilitarian concrete facility in 1952.
The current Kyoto Station opened in 1997, commemorating Kyoto's 1,200th anniversary. It is 70 meters high and 470 meters from east to west, with a total floor area of 238,000 square meters. Architecturally, it exhibits many characteristics of futurism, with a slightly irregular cubic facade of plate glass over a steel frame. The architect was Hiroshi Hara.
Kyoto, one of the least modern cities in Japan by virtue of its many cultural heritage sites, was largely reluctant to accept such an ambitious structure in the mid-1990s: The station's completion began a wave of new high-rise developments in the city that culminated with the 20-story Kyocera Building. For this, there are opinions criticizing the station design for taking part in breaking down the traditional cityscape.
Aside from the main building on the north side of the station, the Hachijō-guchi building on the south side was built to house Tōkaidō Shinkansen which started operation in 1964. The underground facilities of the station, including the shopping mall Porta beneath the station square, was constructed when the subway opened in 1981.
(Courtesy of
Wikipedia
)
Useful Links for visiting Kyoto with regards to transportation:
Kyoto City Transportation
Layout of the Building: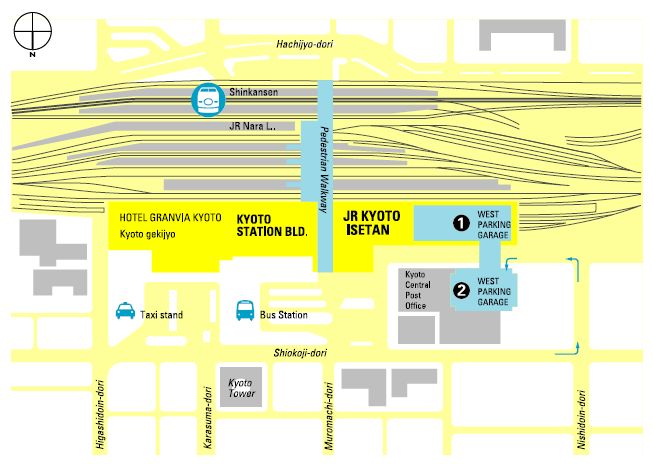 From the outside and vicinity: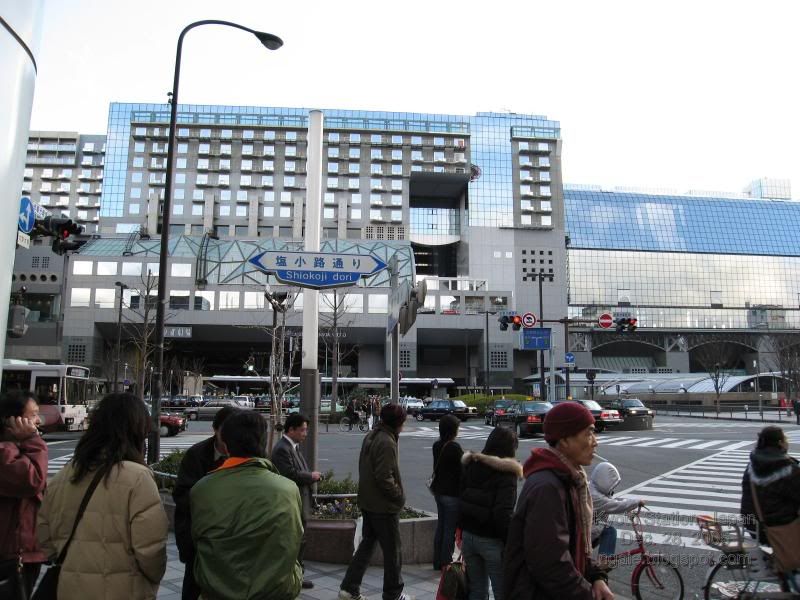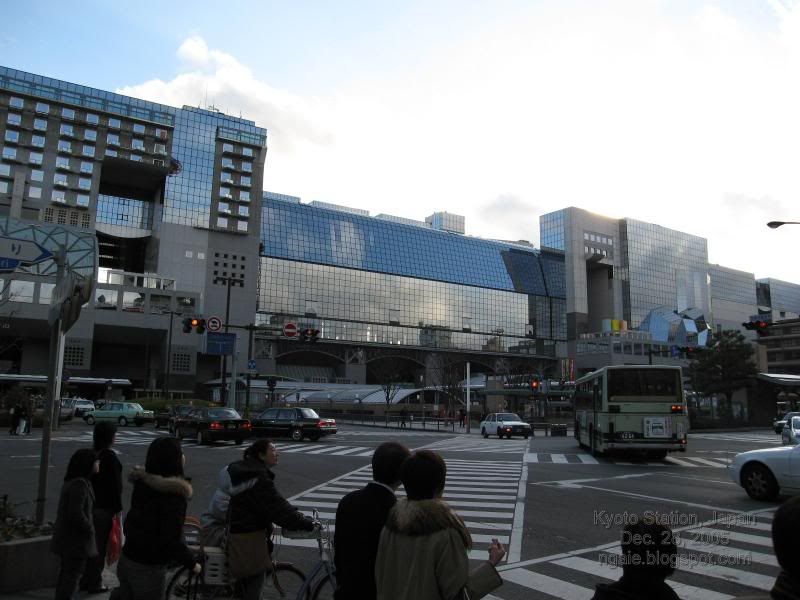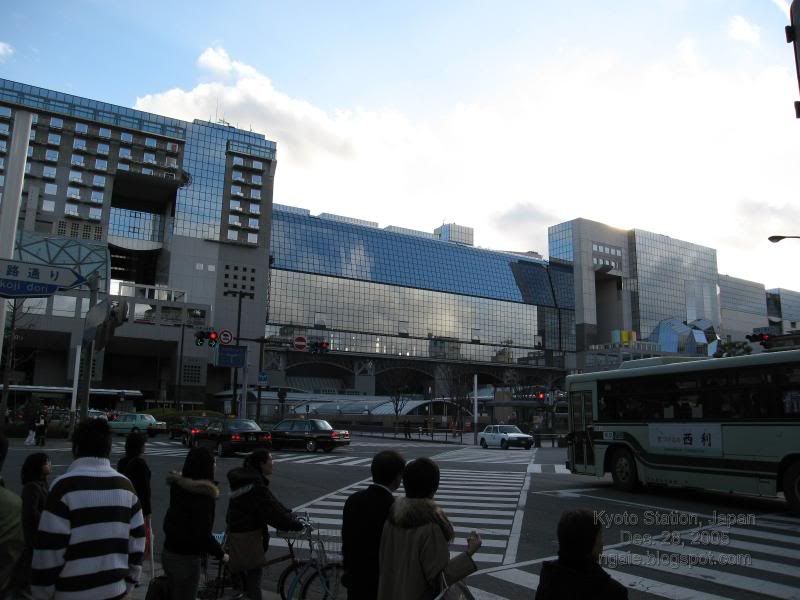 The (東本願寺) Higashi Honganji

(Courtesy of japan-guide.com)

Nishi Honganji and Higashi Honganji are two large temples in the center of Kyoto. As headquarters of the two factions of Jodo Shinshu (True Pure Land Sect), one of Japan's largest Buddhist sects, they are a place to experience a certain atmosphere of contemporary Japanese Buddhism.

Higashi Honganji (East Honganji) was built only eleven years after and a few steps east of Nishi Honganji as the head temple of the Otani faction. Its main hall is Kyoto's largest wooden structure, but it is currently also being renovated until the year 2011.

The Honganji temples are located a 10 minute walk north of Kyoto Station.

(Note: I did not go to the West temple, or walk past it)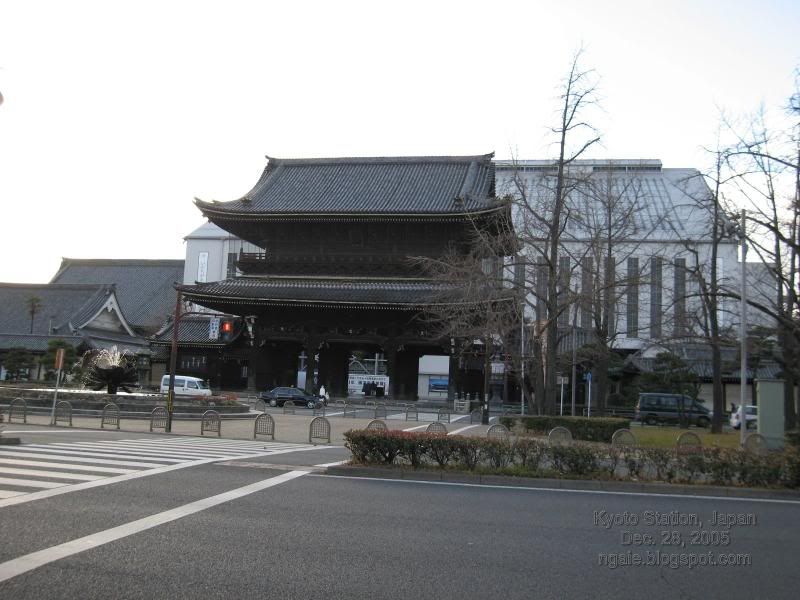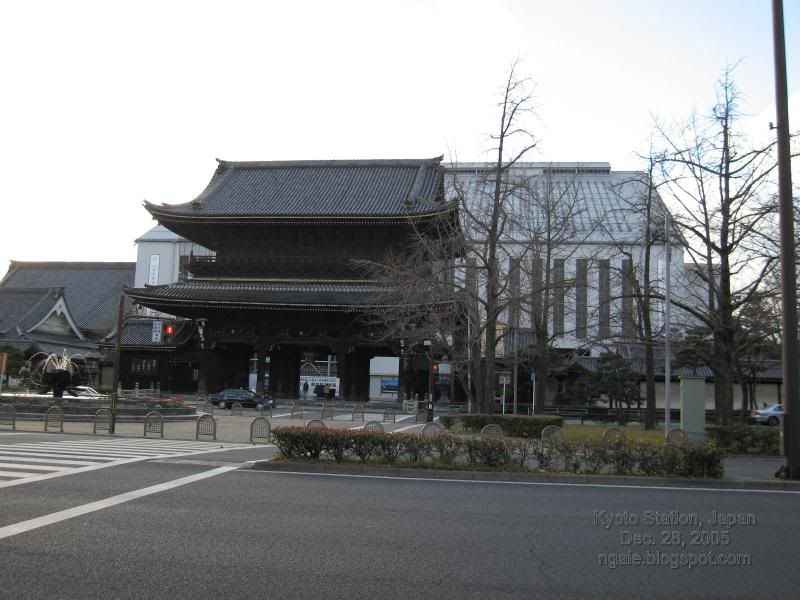 Back to Kyoto Station: