This was our last day in Seoul (on May 5, 08). We stopped over for 4 days en route to our final destination of Singapore. Our flight to Singapore was at 7 pm on that day so we had the entire morning and afternoon to finish our sightseeing.
We had visited most of the usual tourist attractions with the exception of the Namdaemun area so we went there on our final day in Seoul.
Some pictures of the Myeongdong area from our hotel. We stayed at the Ibis Myeongdong hotel. We picked that hotel because it was highly rated on the TripAdvisor.com travel website. It had a pretty reasonable price of $100 per night and was located in a very good location. The only bad thing about it was that the air conditioning was centrally controlled and for one day in our 4 day stopover, it got really hot and we had to ask them to bring in portable air conditioners because they wouldn't lower the temperature of the central air conditioner.
Some pictures of the Myeongdong area from the hotel lobby. The way the hotel was set up was pretty weird. The lobby was on floor above the rooms.


Since it was quite early there was a donut shop which caught our eye and we wanted to try it. Nothing like eating an expensive donut from Doughnut Planet from New York City.

Mmm, the "Big Mom 3" was delicious but so expensive! 4800 won = $4.80!




After that we walked about the Myeongdong area and made another visit to the Lotte department store because we were waiting for restaurant that served Korean Ginseng Chicken otherwise known as Samgyetang to open.

Walking around the City Hall area.




Samgyetang is a "...Korean soup-based dish. It is basically a whole young chicken stuffed with glutinous rice and boiled in a broth of Korean ginseng, dried seeded jujube fruits, garlic, and ginger." (courtesy of Wikipedia)

We had in fact scouted out the restaurant on the night before from looking at the Seoul travel brochures that we picked up.

The restaurant:




The dish:




After that we took the subway to the Namdaemun area. The area is famous for the Namdaemun Market, a collection of open-air style stalls selling apparel.




Some kind of ugly monmument!




Where Korean salarymen buy shoes!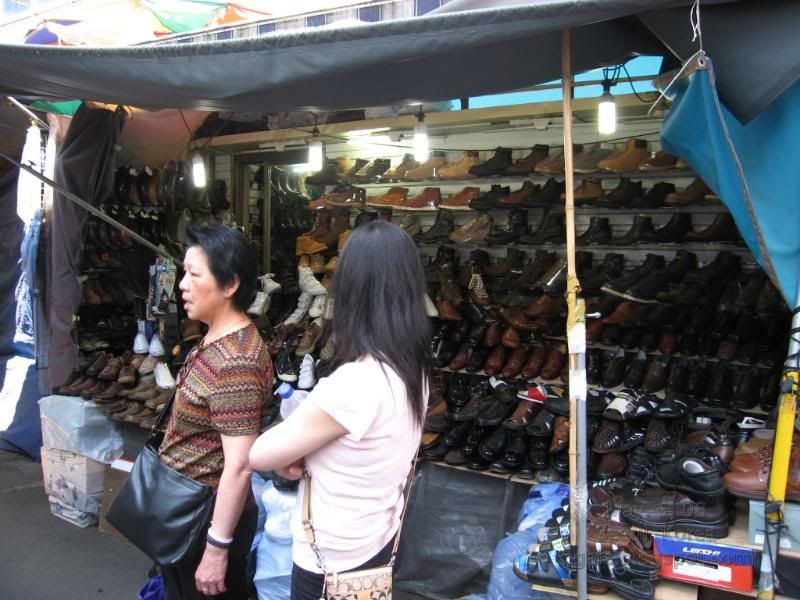 The http://en.wikipedia.org/wiki/Cheonggyecheon flows from Myeongdong all the way to Namdaemun.




The stream as seen from Myeongdong at night:




The actual Namdaemun, or South Big Gate, for which the area is named after.




That concludes our final day in Seoul.