On April 23, 2010, the all the students of in the Intensive Japanese Language program for Japanese Government Scholarship recipients went on a field trip to Hiroshima city.
Because Hiroshima University is located in Higashi-Hiroshima (literally East Hiroshima), we had to take a 40 minute train ride into the city.
We started by going to the Hiroshima Museum of Traditional Industries but because there wasn't anything interesting to take pictures of, combined with the fact that I was holding a bag containing my lunch, I didn't take any pictures of that museum.
After that we went to the grounds of Hiroshima Castle to have lunch. With my lunch disposed of, my hands were finally free to take some pictures.
Entering Hiroshima Castle, like everything else in the city, the original one was totally destroyed by the atomic bomb so this is a reconstruction. It only looks old from the outside, the inside is totally modern.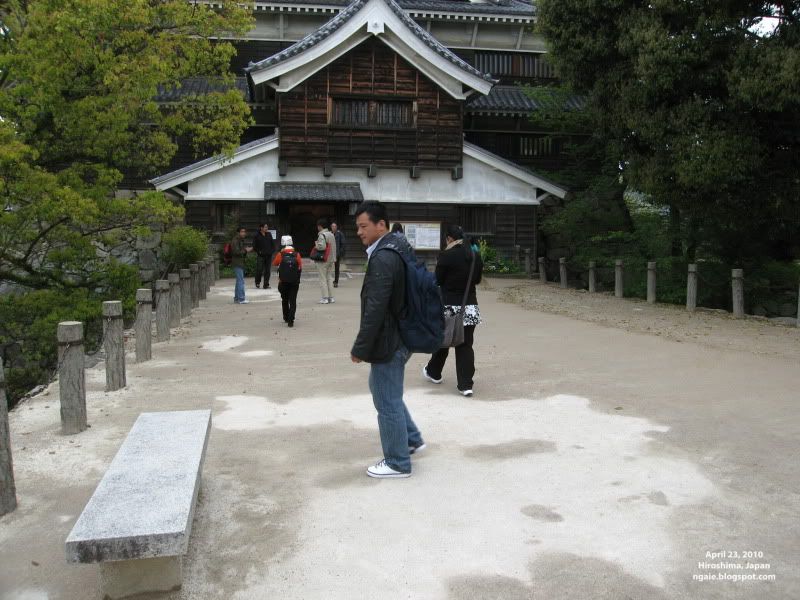 The view of Hiroshima city from the top of the castle.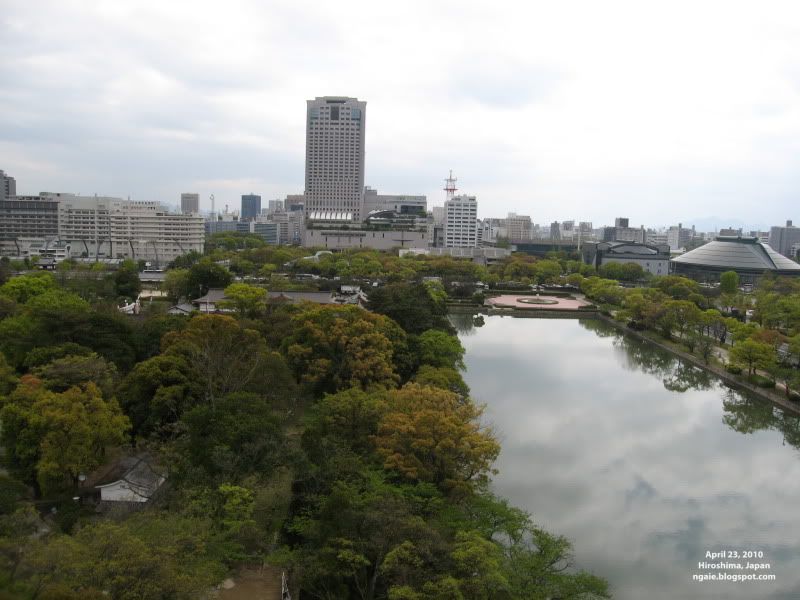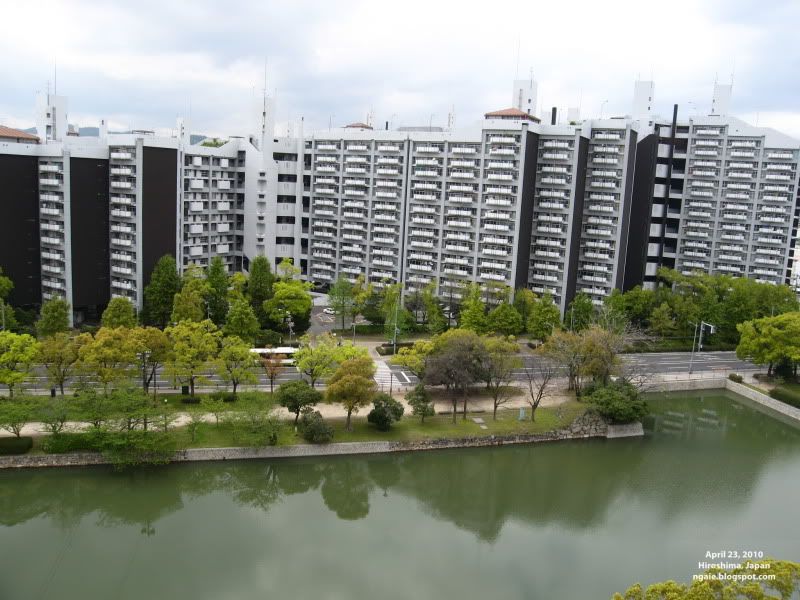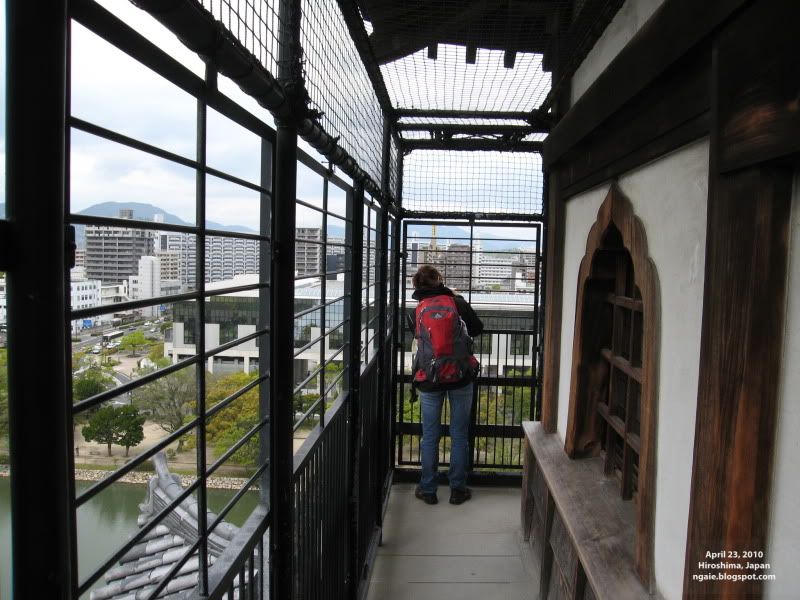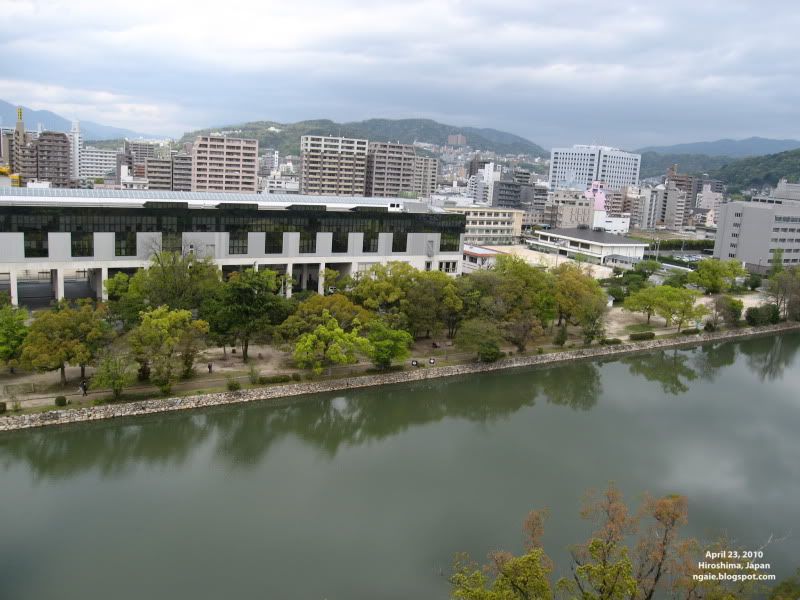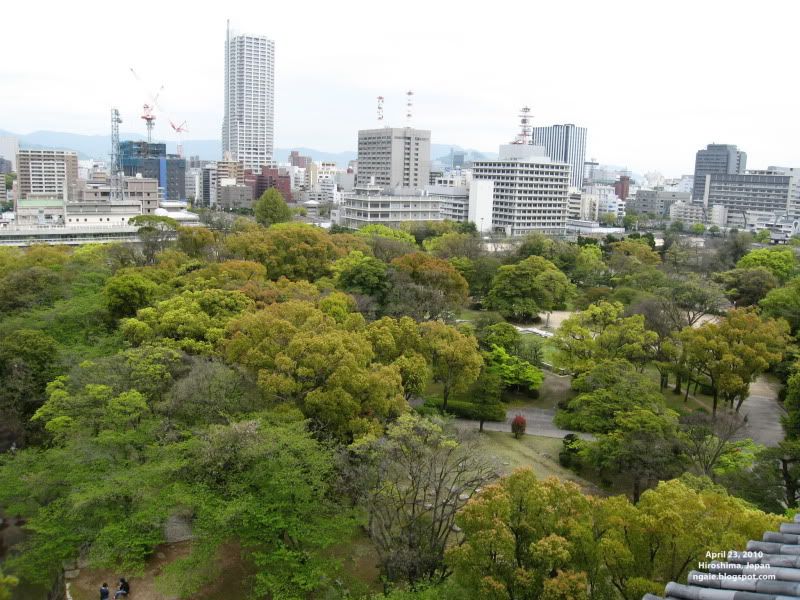 After we finished touring the castle, we walked to the
Hiroshima Peace Memorial Park
. This is the
Atomic Bomb Dome
, the symbol of the destruction caused by the atomic bomb. It was originally called the Hiroshima Prefectural Industrial Hall. I had already been to the Peace Memorial Park in 2004 on my first trip to Japan and not much had changed. The only thing is that all my photos from 2004 were on film. How times have changed!
This is the Memorial Cenotaph which holds all the names of the people who were killed by the bomb.
Looking towards the Hiroshima Peace Museum.
Inside the Hiroshima Peace Museum which displayed all the artifacts that was left over from the aftermath of the atomic bomb.
Here they show what Hiroshima looked like directly after the bomb.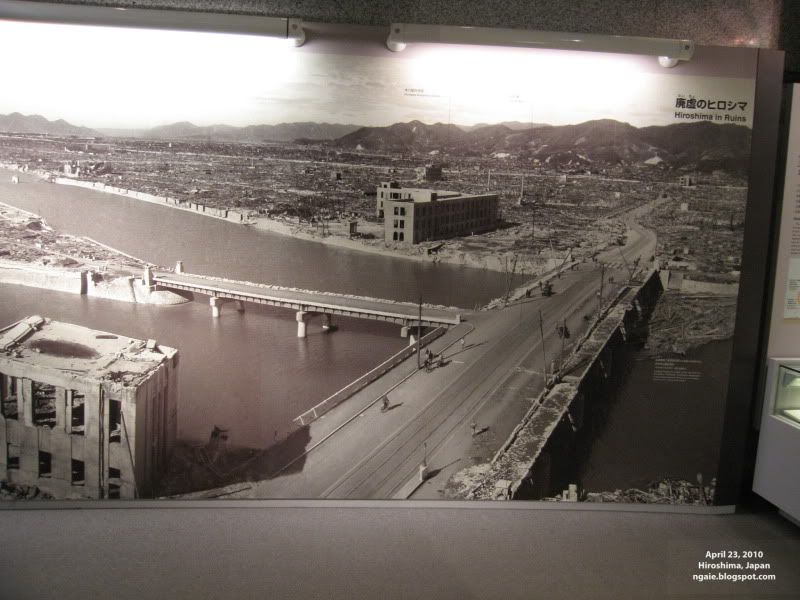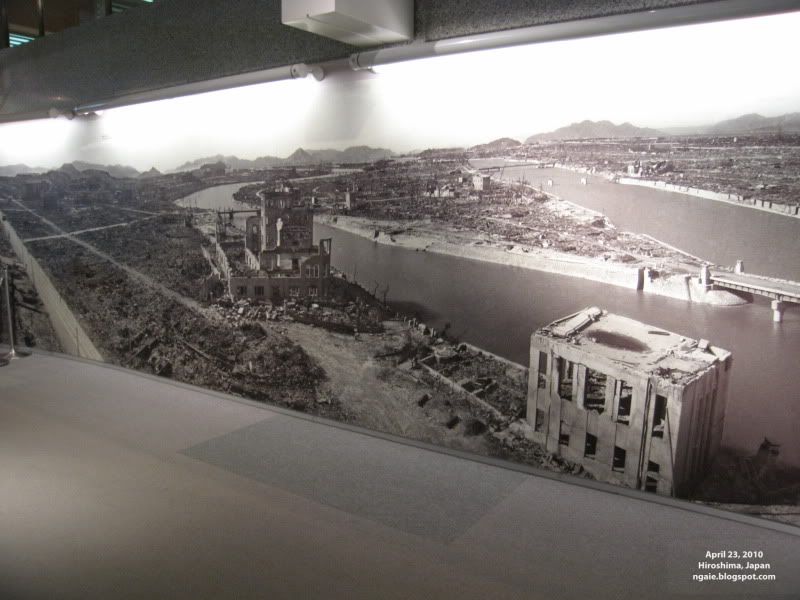 A model of the area that now consists of the Peace Memorial Park. This model shows the area before the bombing.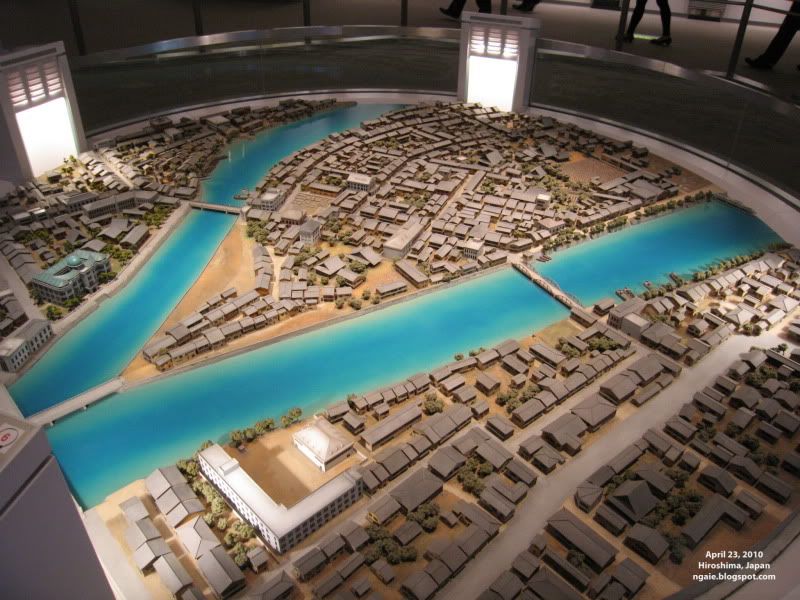 The model shows the area after the bomb.
The interior of the museum.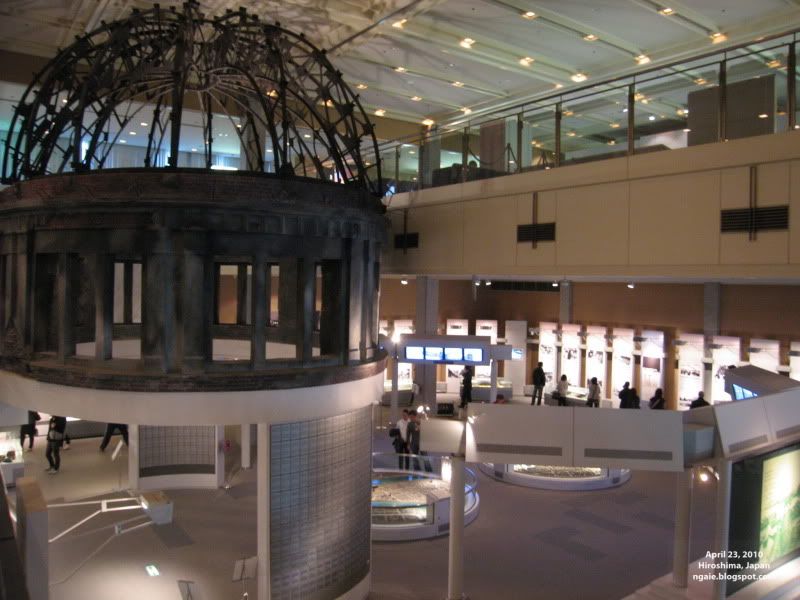 This model shows the epicenter of the atomic bomb blast.
Some artifacts on display which shows the effect of the atomic bomb.
Charred clothing.
Hair.
Nails and skin from a student.
Bicycle.
Uniform.
Human shadow etched in stone.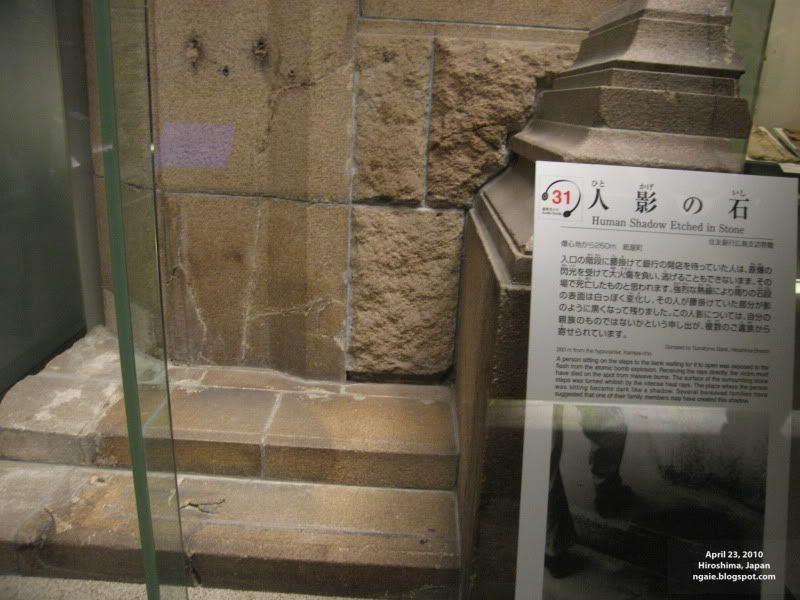 Glass bottle and bowl.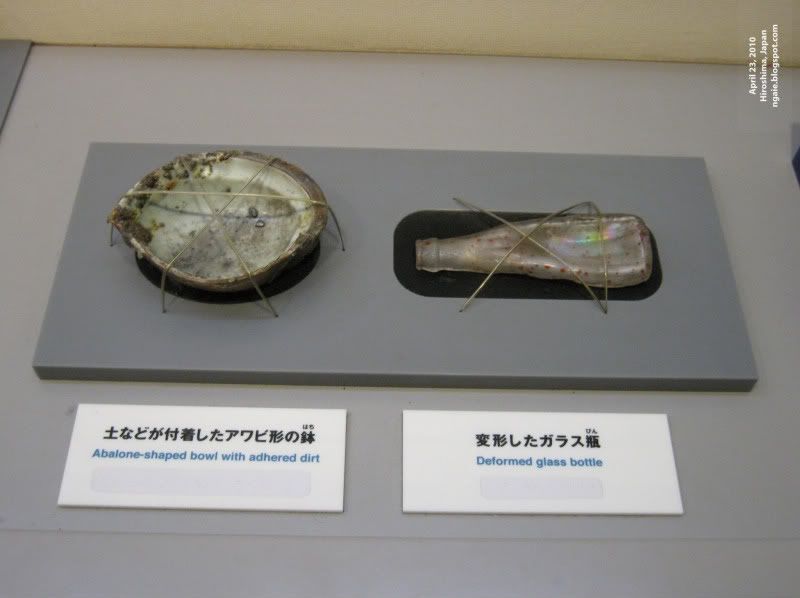 Fused roof tiles.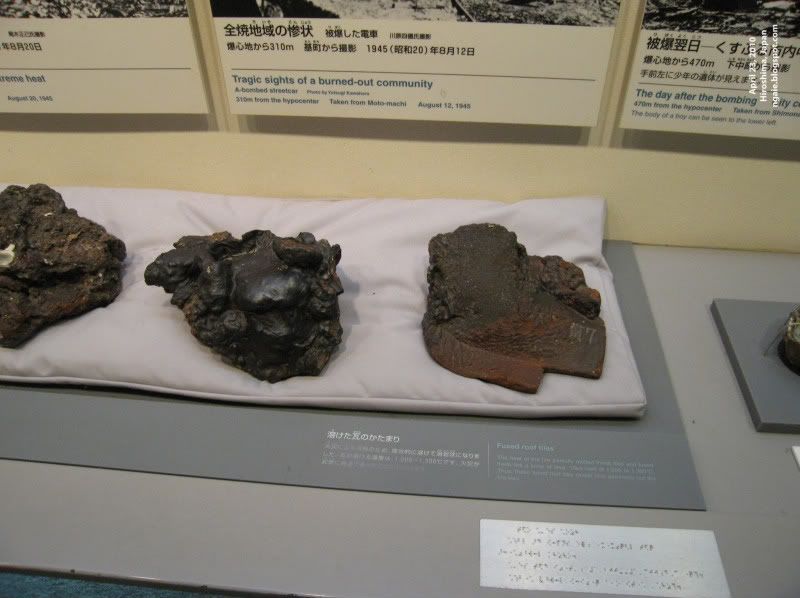 Finally near the exit, a view of the Peace Memorial Park.