On Feb. 23, 2010 during the 2nd week of Olympics competiion I attended the qualifications playoff game at Canada Hockey Place (GM Place) where Switzerland played Belarus. The winning team which was Switzerland would go on to play the United States in the quarterfinals and ultimately lose to United States and the United States would ultimately lose to Canada in the Gold Medal game today.
The game last Tuesday started at 12:00 pm. I was unlucky that I got the 12:00 pm tickets because if I had gotten the tickets to the 4:30 pm qualifications game I could have been the Canada vs. Germany game.
I went with my uncle and we walked from my house and over Cambie Bridge to the security checkpoint for Canada Hockey Place. Near the security checkpoints there were all these "Inukshuks" (logo for the games) built on the side of False Creek.
Inside the arena, which is the home of the NHL's Vancouver Canucks, there was a mural of the 30 Greatest Canucks from 1970 - 2000. My favorite player from that mural is Pavel Bure who was the most exciting player to ever wear the Canucks uniform.
The view from seats that cost $80.00 each. This is was near the start of the game.
I was playing around with my camera settings during the whistle calls.
The game was fairly entertaining given that two weaker teams were playing. There were a sizable number of Swiss fans who kept chanting "La Swiss" during the game countered by a smaller number of Belarus fans who chanted "Be-la-rus" during the game.
The game ended up being tied after 3 periods of play and 10 minutes of overtime couldn't resolve anything and eventually Switzerland won in a shootout. This was my first time watching a shootout live and it was quite entertaining.
Team Switzerland celebrating their shootout win.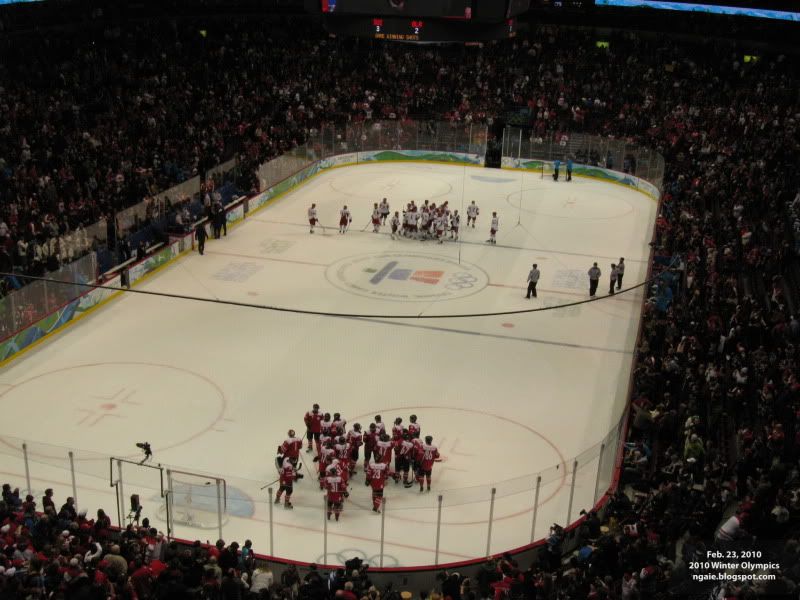 Afterwards we went down to the Olympic store where I bought an overpriced $45.00 white longsleeve Nike shirt with the Vancouver 2010 logo and the teams of each of the countries playing in hockey imprinted on the sleeves. I was also surprised at the amount of merchandise some of the Russian fans bought. Some of them bought nearly $320.00 worth of clothing merchandise!